The Global Reach of Our Students
At IBQMI®, we are privileged to equip ambitious professionals from a multitude of top-tier global companies with our industry-specific certifications. On this page, we offer valuable insights into the widespread distribution of our students across various companies and industries, illuminating the diverse applications of our certifications and their role in fostering professional growth across a broad spectrum of sectors.
This information provides insightful data, aiding in understanding the evolving trends across various sectors and industries in the context of our educational programs.
Disclaimer:
The information provided on this website is for educational and informational purposes only. It is intended to offer an understanding of the various industries, certifications, and professional distribution of our students. While we strive to provide accurate, up-to-date content, we make no representations or warranties of any kind, express or implied, about the completeness, accuracy, reliability, suitability, or availability of the information provided. The mention of specific companies, organizations, or authorities on this website does not imply any affiliation, endorsement, or representation of said entities. The companies whose logos or names may appear on this site are for illustrative purposes only, to showcase the broad distribution of our students across various sectors. All company logos, trademarks, and copyrights are the property of their respective owners. Any use of these logos or trademarks is for identification and reference purposes only and does not imply any association with the trademark holder.
Meet our Students from Fortune 500 Companies
Our student body includes professionals from trailblazing organizations like Apple, Tesla, and Virgin, known for consistently pushing the boundaries of innovation. We also have learners from Salesforce, a leader in customer relationship management services, as well as from Vodafone, a multinational telecommunications giant.
In addition, we are proud to serve students from Daimler, a significant player in the automotive industry, and from technology pioneers IBM and Oracle, whose contributions continue to shape the digital world. Financial professionals from HSBC, one of the world's largest banking and financial services institutions, are also IBQMI® students who wish to advance their careers.
At IBQMI®, we're proud of our diverse student body that hails from a broad spectrum of industries. These professionals trust us to equip them with the necessary knowledge and skills that catalyze their career advancement.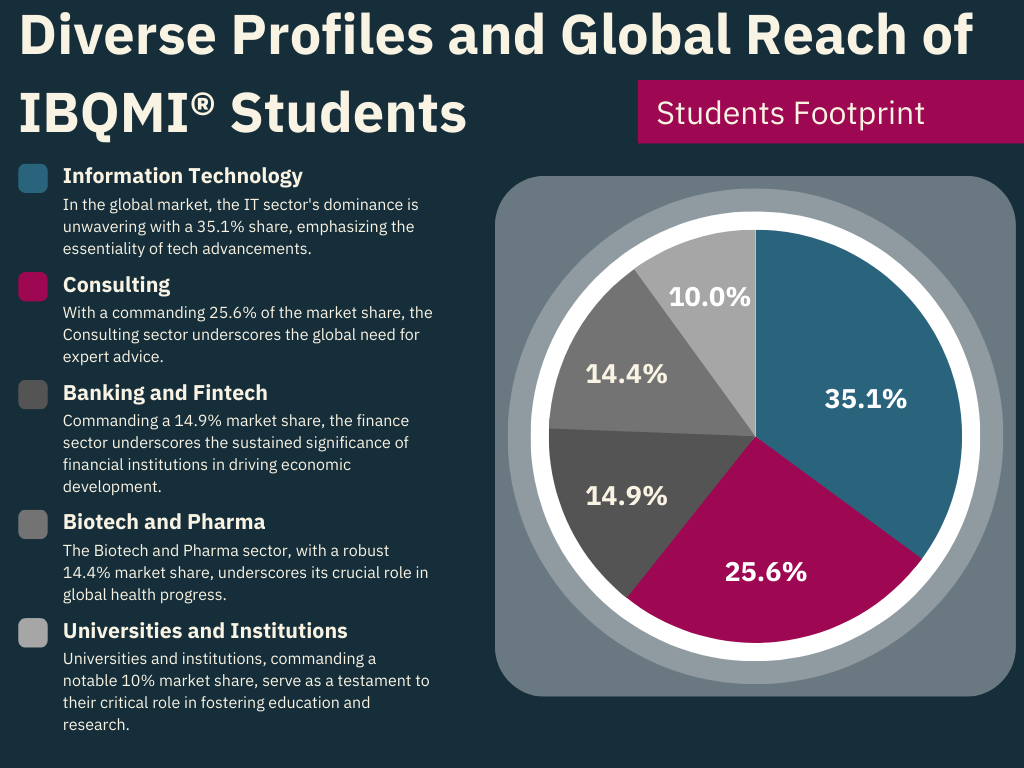 Discover Where Our Students Are Making Their Mark in the Professional World
Fortune 500 Companies: Top-tier professionals from Fortune 500 companies across the world choose IBQMI® as their trusted partner for continuing education. We are proud to serve students from some of the world's most prestigious Fortune 500 companies, including:
Apple Inc.

Tesla, Inc.

Virgin Group Ltd.

Salesforce.com, Inc.

Vodafone Group Plc

Daimler AG

IBM (International Business Machines Corporation)

Oracle Corporation

HSBC Holdings Plc
Universities and Educational Institutions: We hold a strong foothold in the academic sector. Our students come from esteemed institutions, seeking to bolster their academic prowess with industry-specific skills. Noteworthy academic homes of our students include:

Columbia University

American College of Education

West Texas A&M University

University of Miami

The University of Western Australia

University of Toronto

Politecnico di Milano

RMIT (Royal Melbourne Institute of Technology University)
Auburn University at Montgomery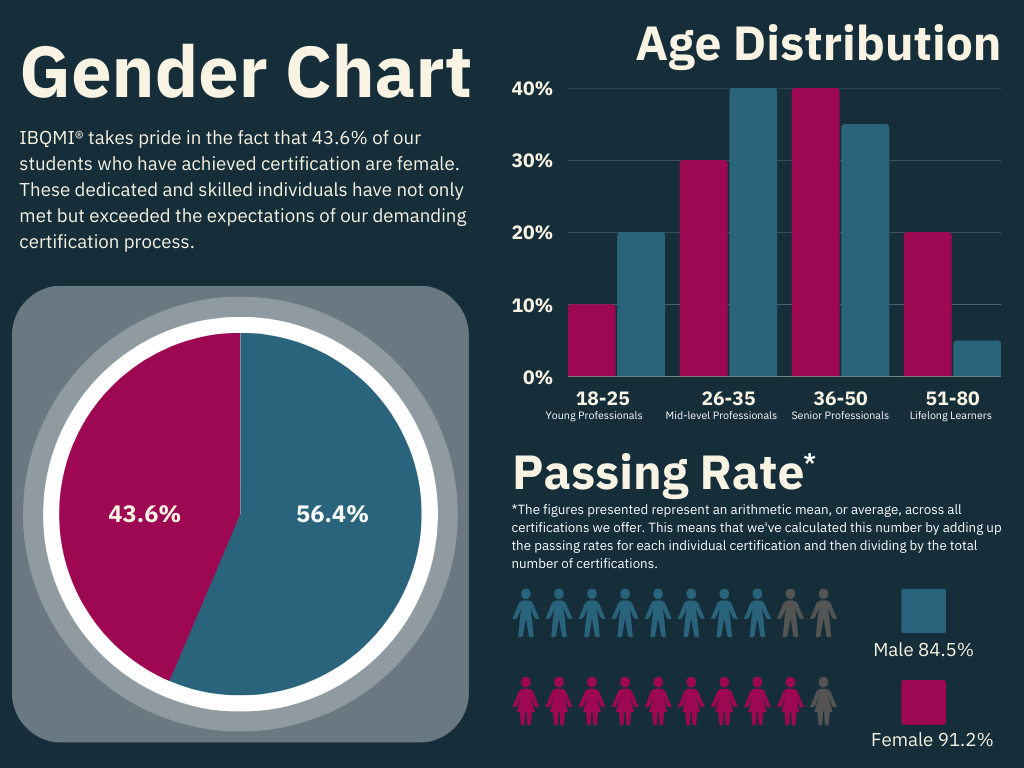 Expanding Horizons: Revealing Industries Where Our Students Work
Information Technology

Information Technology and Services: At IBQMI®, we provide advanced learning opportunities for professionals from renowned global technology firms. Our industry-focused courses prepare these individuals to stay ahead of the rapid changes in technology trends, empowering them to add significant value to their organizations. We take pride in educating students who are part of some of the world's most prestigious tech companies, including:

IBM

Salesforce

Oracle

Bluetooth

Apple

Hewlet Pacard Enterprise

Verizon

CGI

Capgemini

DXC

T-Systems International

MongoDB

Perficient

RedHat

Zoho

NEC XON
Banking and Fintech

Banking and Fintech: In the fast-paced fintech world, professionals are increasingly turning to combined project management and agile methods to stay ahead of the curve. Our courses at IBQMI® have emerged as the top choice in this regard. Our students gain a comprehensive understanding of both project management and agile practices, preparing them for the dynamic landscape of fintech. This unique blend of skills is what makes our courses the preferred choice for professionals seeking to make a significant impact in the global fintech market, projected to reach $324 billion by 2026. Our students hail from some of the world's most prominent financial institutions, such as:

HSBC

Royal Bank of Scottland

Chase Bank

Capitec Bank

Jackson

BECU

KPMG

Swiss Life

Blue Shield of California

LexisNexis

ISBank
Media and Telecommunications

Media and Telecommunications: At IBQMI®, we cater to professionals hailing from globally recognized media and telecommunications conglomerates. This sector is characterized by the constant flux of technology and consumer demands, making it a crucible for innovation and strategic agility. As per recent statistics, the global telecommunications market is set to reach $2.4 trillion by 2025, and our students are at the heart of this growth. They work in these prestigious organizations, navigating complex business landscapes, delivering unparalleled ROI, and achieving international recognition for their expertise. Our students come from some of the world's leading telecommunications companies such as:

Sky

Vodafone

Bloomberg

Virgin
Biotech, Healthcare, and Pharma

Biotech, Healthcare, and Pharmaceuticals: IBQMI® proudly serves professionals from renowned healthcare and pharmaceutical companies worldwide. This sector, marked by rapid advancements in medical technology and stringent regulatory environments, is expected to reach $1.57 trillion by 2023. Our students are at the forefront of this expansion, using their skills and knowledge to drive innovation and improve patient outcomes. They represent some of the most respected healthcare and pharmaceutical organizations, including:

Roche

Honeywell International

Pratt & Whitney

Carilion Clinic
Consulting & Professional Services

Consulting and Professional Services: Manufacturing and Engineering: Specialists from leading manufacturing and engineering firms around the globe choose IBQMI® as their preferred platform for continuous professional development. Our courses, steeped in industry-specific insights, arm these individuals with advanced methodologies and best practices, empowering them to enhance production processes, boost product quality, and generate significant ROI for their organizations. With this knowledge, they are well-prepared to navigate the intricate challenges of today's manufacturing and engineering environment, such as supply chain disruptions, digital transformation, and sustainability. The global market for engineering services is expected to reach $1.5 trillion by 2027, and our students are actively contributing to this growth. It's a privilege to educate students from some of the world's most esteemed manufacturing and engineering companies, including:

Reply

Jackson

Ferguson

Bechtle

Nave

Capgemini

Indra

Accenture

CCA Global Partners
Manufacturing and Engineering

Manufacturing and Engineering: Specialists from top-tier manufacturing and engineering firms across the globe choose IBQMI® as their preferred hub for ongoing education. Our courses, steeped in industry-relevant knowledge, equip these professionals with cutting-edge strategies and best practices. This training enables them to enhance production workflows, boost product quality, and generate significant ROI for their organizations. Consequently, they are more aptly prepared to tackle the intricate challenges of today's manufacturing and engineering fields, such as supply chain disruptions, the digital revolution, and sustainability issues. We take great pride in serving students from some of the most esteemed manufacturing and engineering companies globally, including:

Apple Inc.

The LEGO Group

E.ON SE

Liebherr Group

Vestas Wind Systems A/S

JLG Industries, Inc.

Pratt & Whitney (a division of Raytheon Technologies Corporation)
Insurance

Insurance: Professionals from top-tier insurance corporations worldwide count on IBQMI® for their ongoing professional development. Our range of courses, including Lean, Agile Management, Kanban, Scrumban, DevOps, and Project Management, are not industry-specific but universally applicable across various sectors, including insurance. These courses equip these individuals with the latest methodologies and best practices, enabling them to adeptly navigate a dynamic environment and drive significant returns on investment for their organizations. As they master these universally applicable skills, they can provide more efficient and innovative solutions to their clients in an ever-changing landscape. Our students represent some of the world's most respected insurance companies, such as:

AXA SA

American Family Insurance (AMFAM)

Prudential Financial Inc.

Swiss Re Ltd.
Automotive

Automotive: Professionals from leading automotive companies worldwide trust IBQMI®'s certifications to keep up with the fast-paced advancements in their industry. Our approach to Kanban, unlike others, is unique and comprehensive. While most Kanban certification providers focus exclusively on IT, at IBQMI®, we recognize the importance of this methodology across various sectors, including the automotive industry.

Our meticulously crafted courses cater to the specific needs of the automotive sector, covering the latest technological breakthroughs and industry trends. We provide a holistic view of Kanban, preparing our students to implement these strategies effectively in their automotive organizations to enhance productivity and efficiency.

Our students are esteemed members of globally recognized automotive corporations, such as:
Empowering Success: Voices from Our IBQMI® Alumni
IBQMI® alumni, hailing from diverse industries globally, are a testament to our commitment to forge industry leaders.
They've utilized our comprehensive, ROI-focused courses to achieve professional milestones. Their narratives reflect the transformative power of an IBQMI® certification, empowering them to navigate the dynamic financial landscape.
Explore these stories and see how IBQMI® can fuel your professional trajectory.
"As a trainer partnered with IBQMI®, I utilize their methodologies to enhance my clients' business operations. This partnership enables me to optimize processes, boosting efficiency and success for my clients."

"As an experienced executive, IBQMI's Lean Project Management approach has been enlightening. Its efficiency-driven model has enhanced my productivity and promoted continuous improvement for our teams."

"As an IBQMI ACCREDITED TRAINING PARTNER®, my goal is to elevate productivity and spur growth in these organizations, utilizing the superior tools and strategies provided by IBQMI®."

Share Your IBQMI® Experience, Amplify Your Professional Reach
Your journey with IBQMI® is unique and inspiring. We would love to hear about your experiences with our internationally recognized certification programs. Your feedback not only helps us improve but also provides valuable insights to our global community. Plus, it's a fantastic opportunity for you to increase your professional visibility.

For every review submitted, we will provide a backlink to your LinkedIn profile on our website. This means that your feedback could drive significant traffic to your profile, expanding your network, and unlocking new opportunities.
Ready to share your story and boost your professional reach?